Rainforest Brown marble countertops: Rainforest Brown/Green is a name in the U.S. as a marble, but it's actually a lesser-known stone type called Serpentinite. It has very similar properties to marble and granite. That's why we can consider Rainforest Brownstone indicating a composition somewhere between granite and marble.
First, it's harder than the marble, that's why as a fabricator like us we prefer to cut it with a granite blade instead of a marble blade. Second, the marble takes more maintenance than the other countertop materials is because it can stain or scratch easily. On the other hand, Rainforest Brown has a very busy pattern and colorful so even if something did ever happen to the stone most likely it won't be noticeable.
Rainforest Brown goes with many color combinations in kitchen and bathroom designing. This beautiful stone can be a good application to use for kitchen and bathroom vanities without any hesitation. For cabinet ideas, we recommend you to use darker cabinets for Rainforest Brown and white cabinets for Rainforest Green. The reason behind our suggestion is that with a dark cabinet combination stone becomes rich and very elegant. For backsplash ideas, the best thing is to use the same stone as a backsplash together with the countertop. For flooring ideas, light natural stones, not too busy cream, and beige color would be perfect to finish your kitchen remodeling project.
The great thing about Rainforest Brown and Rainforest Green marble is that it's relatively inexpensive. We love stones like this because they allow us to create exciting, exotic countertops for anyone who can afford it.
Rainforest Brown Marble Countertops in Pictures:
Picture Credit: Granite Grannies
Another key point for Rainforest Brown marble is that as a countertop and backsplash applications have a dramatic view. Rainforest Brown marble with dark cabinets and a full-height backsplash from the same marble made it an amazing deepest look for kitchen remodeling. Additionally, the kitchen features a stainless steel hood and faucet with cream porcelain floor tiles.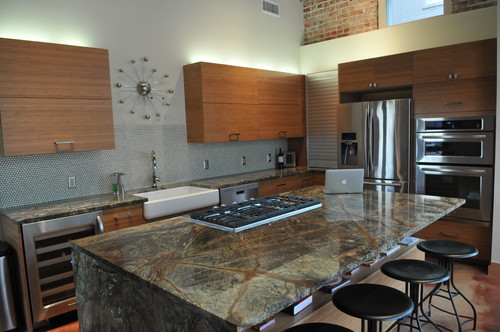 Picture Credit: Urban Kitchens
This modern kitchen is designed with Rainforest Brown marble with stainless steel cooktop on it. On the other hand, modern cabinets, double wall oven, porcelain white farm sink added an amazing look. Stainless steel appliances including a wine cooler with an open ceiling are stunning. The island overhang is long enough to put bar stools to create a cozy conversation environment. Light green wall paint and mosaic tile backsplash featured top of the cabinet lighting was the fine touch for the kitchen renovations ideas.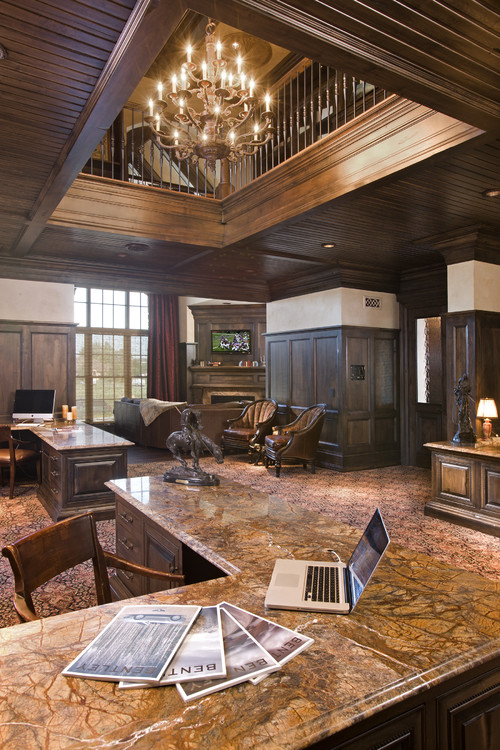 Picture Credit: John Kraemer & Sons
This home office is made with Rainforest Brown to the next level up. Therefore, the open ceiling gives an amazing perspective with the chandelier. This carpeted floor in this office design with dark cabinet colors matched well to create a working environment.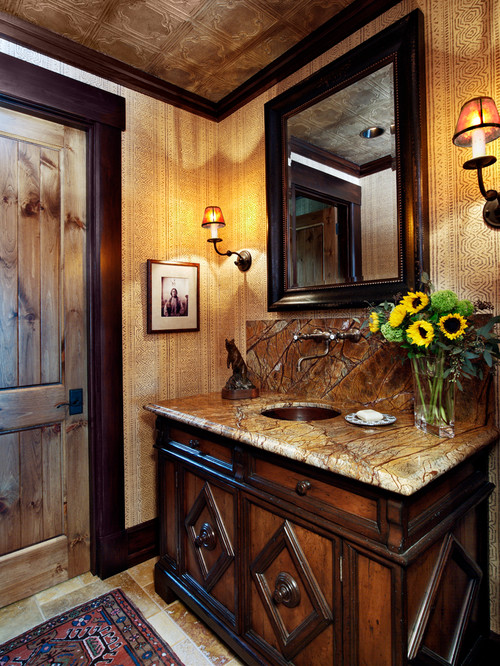 Picture Credit: Jordan Design Studio
I know that I usually do not put bathroom pictures but this one took my attention and I would like to share it with you. This room is surrounded by wallpaper and matching coloring. A nicely finished antique-looking door and vintage mirror frames make you feel like you are in an unusual place. Stunning color combination compatible with Rainforest Brown and limestone floor tiles covered with an oriental rug.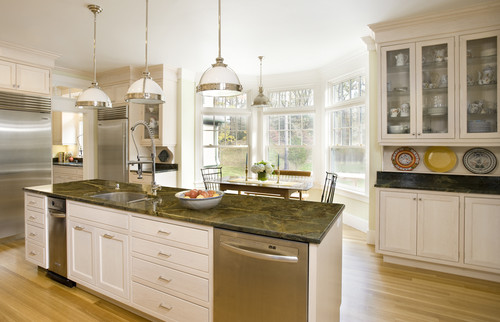 Picture Credit: LDa Architecture & Interiors
Remodeling Rainforest Brown marble countertops with white cabinets are always a good and right decision for kitchen design. The kitchen island with a sink on it which has also a pendant lamp above it became a very good combination. Bay window and glass front wall cabinets are the most effective choice for kitchen remodeling. Stainless steel appliances, oak wood flooring gave room enough contrast for us to see each beauty separately.