Welcome to our gallery featuring Kashmir White granite countertops with white cabinets.
Whether you are planning a new kitchen remodeling or changing the existing one, I suggest this granite is one of the best candidates for your upcoming project. Specially Kashmir White with white cabinets works great which has all of the colors that you need. When you look at the slabs, it looks grayer (rather than whiter) and more purple in the specks than a mix of burgundy. So, this stone has white, green, gray, and deep burgundy.
Kashmir White granite can be featured with darker cabinets and it will stand out in a remarkable way. While designing the kitchen we have to consider all those colors granite has. Either we are using white cabinets or dark ones.
Backsplash ideas are always a very touchy subject when it comes to the decision part. Since the nature of this stone's colors is mixed with green and some gray and burgundy, using some similar accent colors would be a smart move. Plus there is nothing wrong with applying similar wall paint colors.
If you need to put it on a hot pan on the countertop please remove it after you are done serving. Do not let it cool down on top of the countertop.
Kashmir White Granite Countertops With White Cabinets in Picture: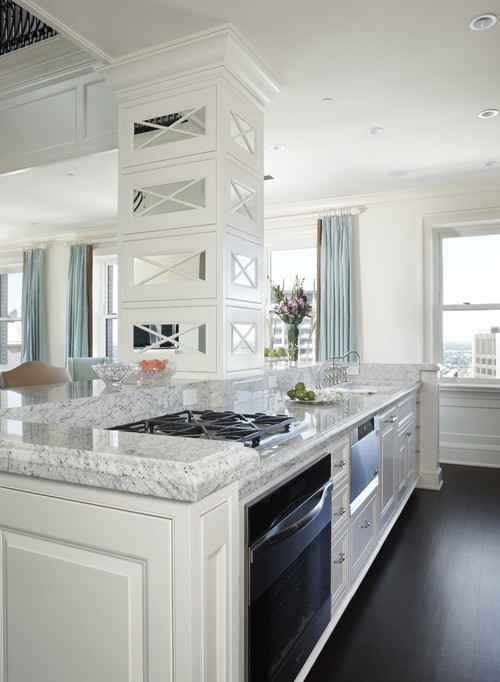 Picture Credit: EuroCraft Interiors Custom Cabinetry
Kashmir White countertops make a very good combination with espresso dark wood floor. Center island has a nice gas cooktop and an under-mount porcelain sink. Light blue curtains by the window along with white paint wall color give airy look for the kitchen remodeling ideas.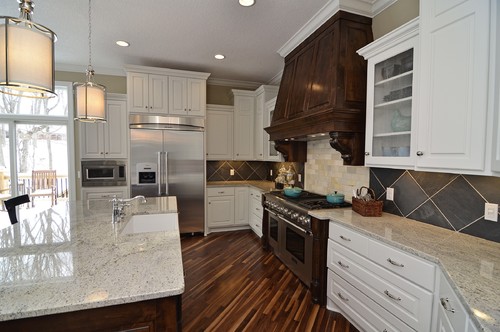 Picture Credit: Gonyea Homes & Remodeling
Travertine tile backsplash over the stove and under the bronze hood. Nice paint color over the walls around the room. The kitchen island has a Nickel-Chrome faucet with the sink which is a typical porcelain farm sink. Plus walnut flooring with a natural finish on it. Black tiles are diagonally installed on the wall side. A contemporary look designed kitchen with recess light and pendant lamps over the island makes a very rich look in the kitchen renovation. On the other hand, wall cabinets with crown moldings, Kashmir White granite, glass front wall cabinets, sub-zero refrigerator, stainless steel stove, and all the other color combinations made the kitchen highly extraordinary.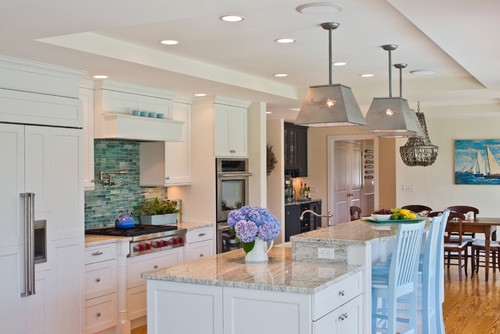 Picture Credit: Polhemus Savery DaSilva
Two leveled kitchen center island with nice lighting over it. This kitchen, designed with aqua green mosaic tile which gives a different look behind the stove area. Kashmir White is creating nice accent color with stainless steel double oven with covered refrigerator, porcelain apron farm sink in the kitchen island. Besides, blue painted bar stools make the bar top completed for the kitchen. Nice modern pendant lights and recess lights looking over oak color wood flooring made an amazing match for kitchen designing.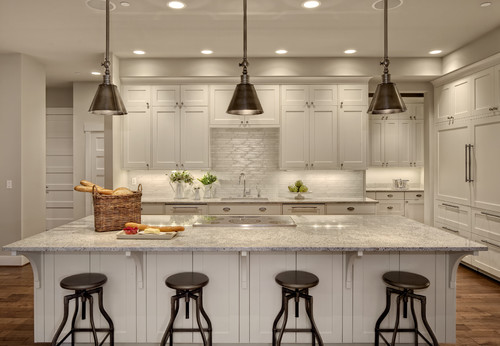 Picture Credit: Interiors
White marble backsplash tiles surrounded the wall cabinets which made the kitchen so bright along with recess lights. This wall paint color is part of the classic collection of completed renovations for this kitchen. While making a decision for kitchen remodeling latest trend is now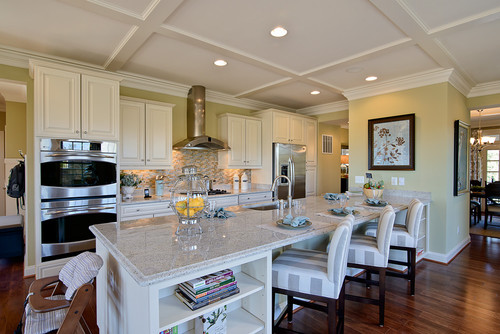 Picture Credit: Maxine Schnitzer Photography
The kitchen island with ogee edged which has a shelf and overhang for the bar stools has one side connected with the wall and has a 4″ high backsplash. Glass&stone mix mosaic tile backsplash combined with off green wall color which has Kashmir White granite. The kitchen also featured with double oven, stainless steel refrigerator along with dark wood flooring.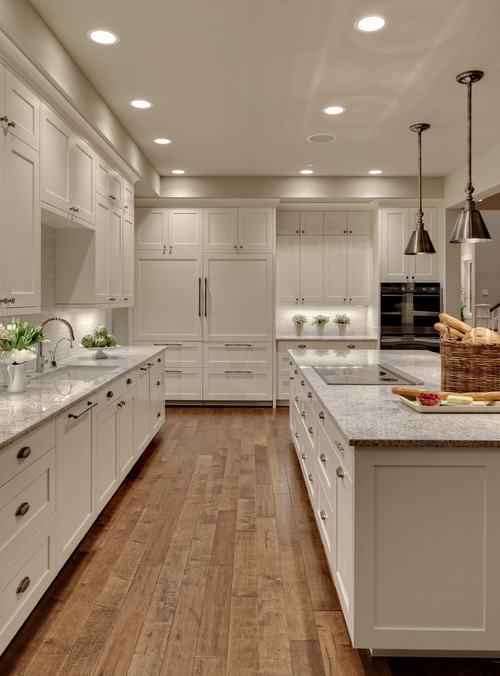 Picture Credit: Studio 212 Interiors
Perfect combinations!!!