Giallo Fiorito Granite Kitchen Countertops White Cabinets
Welcome to our gallery featuring Giallo Fiorito granite kitchen countertops white cabinets:
This Granite is appealing stone comes from Brazil. Meaning of Giallo is yellow and what a nice name for stone.
The color specification of this stone is light peach and orange tones mixed with some black dots. The yellow tones which have some darker patches to combine each other. If you choose Giallo Fiorito granite, it will give you amazing contrast with white cabinets as well as the darker ones.
When it comes to kitchen remodeling process the most important thing is to create contrast. Well the question is how to do it this contrast thing. First of all, we need to trust our own personal taste and use our judgements. This way you can see the each beauty separately and they will not blend each other. This stone is usually called builder grade since it has very good appealing look and goes well with many cabinet color selections. But here in this article, we will only discuss how does it look with white cabinets. The cost of the 3cm Giallo Fiorito is about $40-$45/square foot for residential installation.
How to take care Giallo Fiorito granite kitchen countertops? Since the stone has a medium dark bedrock it might or might not show if it get stains. Your fabricator must have done sealing process before you receive final product in your house. After that you can re-seal it once year by pouring on top of the countertop and wiped it out till totally absorbed and wait over night. Before start using use soap&water and it is good to go…
Giallo Fiorito Granite Kitchen Countertops White Cabinets in Pictures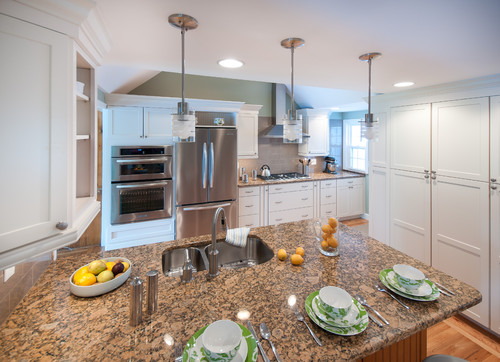 Picture Credit: RI Kitchen & Bath
You might think that this stone goes well with darker cabinet colors which might be true but with white cabinets looks stunning.  This very well designed kitchen with island which has a sink installed. The granite is Giallo Fiorito with white cabinets.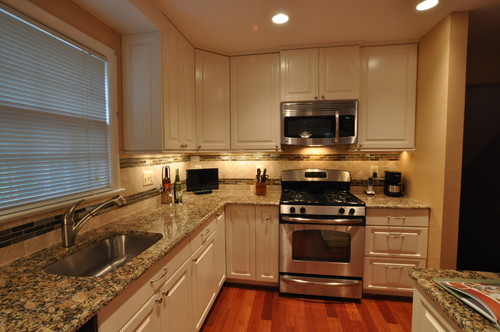 Picture Credit: Summit Design Remodeling
Decorating kitchen area is one of the biggest projects in home remodeling industry. To get more stunning look is extremely straight forward and you can try Giallo Fiorito granite kitchen countertops with white cabinets. This combination is good because, this can give you enough contrast if it is combined with cherry color wood floor.
Giallo Fiorito Granite Kitchen Countertops White Cabinets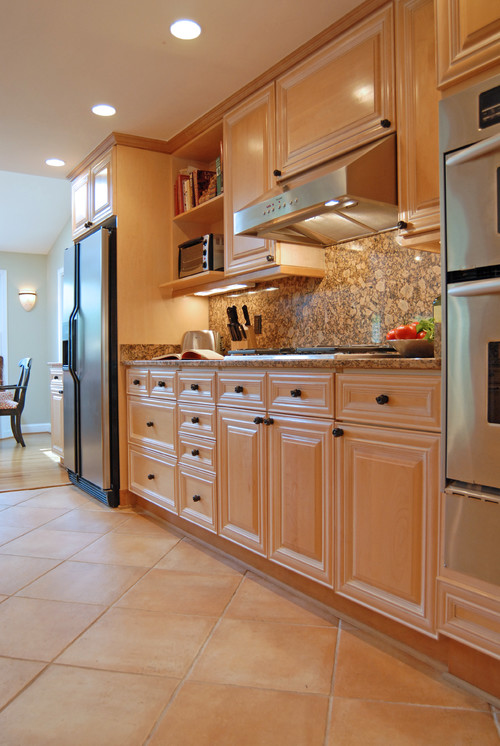 Picture Credit: Schroeder Design/Build, Inc
Whenever planning for a kitchen remodeling, choice of granite or cabinet colors as well as home appliances are very important. Spending time with all of the combinations together makes your kitchen beautiful and amazing. The important thing is that to catch best colors according to your taste and try to combine them the way you like it. Giallo Fiorito granite goes very well with light color cabinets.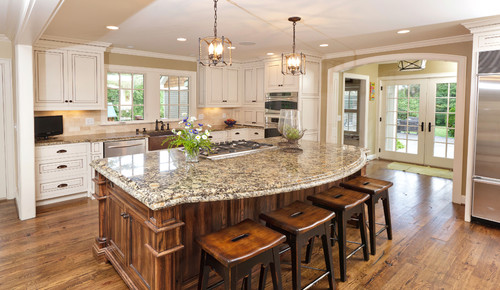 Picture Credit: Michael Cadden
The kitchen features white and dark cabinets combination on a stainless steel farm sink. Kitchen with travertine tiled backsplash over the range across from the curved, arc shaped island which includes a cooktop installed with an overhang Giallo Fiorito granite for the nice dark wooden rectangular shape bar stools.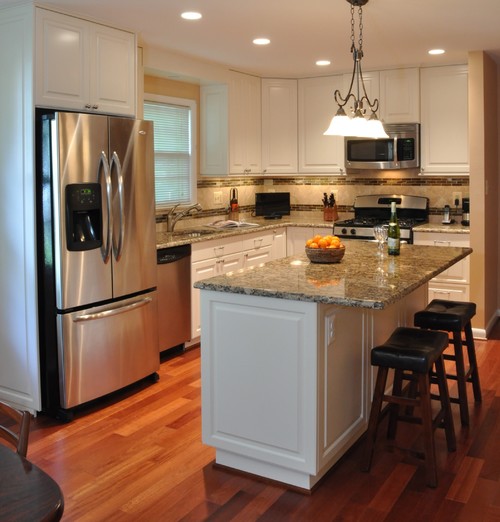 Picture Credit: Summit Design Remodeling
This cozy L shaped kitchen with a center island which has overhang on one side to sit and eat makes this room big enough. Giallo Fiorito granite featured also with light cherry hardwood floor.
My goal on this blog is to provide you with a little more information about the decision you are about to make. At the end, try to give design ideas, inspiration, experience with a beautiful photos and maybe taste of what might goes with what in the kitchen designing world.
Please follow and like us