Welcome to our gallery featuring alternative best kitchen flooring materials.
The floor materials could be hardwood, laminate, vinyl, engineered hardwood, or tile. Flooring is very important and these days there are too many choices to pick from. The best choice is still hardwood flooring but lately engineered flooring becomes popular.
Finding your perfect floor is not an easy job.
The most popular flooring is hardwood flooring which is good for most of the homes in the market. Hardwood floor comes with 5 different tree options( Hickory, Oak, Maple, Walnut, and Cherry). Before they come to the market need to have basic treatments such as sealer. After that, wood can be useful for kitchen flooring. Besides, wood flooring is good in any condition and easy to clean. It is also nice to have the whole entire floor covered with the same hardwood material.
Laminate Flooring: Kitchen flooring design ideas with laminate are important and still have a demand among homeowners. The only downsizing is that laminate flooring is not an upgrade material anymore.
Ceramic Tile Flooring: One of the most important kitchen flooring design ideas is that ceramic tiles as a new trend. They are made from clay which is an eco-friendly product and a very decorative material for kitchens. Finally, ceramic tiles come in different shapes and sizes. They are in different colors and finishes.
Vinyl Flooring: Vinyl flooring is almost out of style these days, but there are still some usage areas in the houses. The only good thing left out which is very good for kitchen usage because there is a lot of standing.
Engineered Hardwood Flooring: Engineered hardwood flooring is real wood flooring.
Best Kitchen Flooring Materials Vinyl Flooring Natural Stone
Picture Credit: Light Oak Flooring
Light oak flooring with dark cabinets and dark granite countertop. Besides, a gorgeous kitchen featured stainless steel appliances, recess lights, and a full height backsplash.
Picture Credit: Red Oak Flooring
Amazing red oak flooring with dark cabinet colors and quartz engineered countertop made a good combination. Center kitchen island with sink and cooktop on it has also 12″ overhang to put bar stool this amazing hardwood flooring. Stainless steel appliances, pendants, and recess lights look beautiful with a high ceiling.
Picture Credit: Tile Flooring Company
One of the kitchen flooring design ideas is to make color combinations perfect. Especially, this amazing color matching from floor to top of the ceiling is very remarkable. The combination of colors and lighting is spectacular.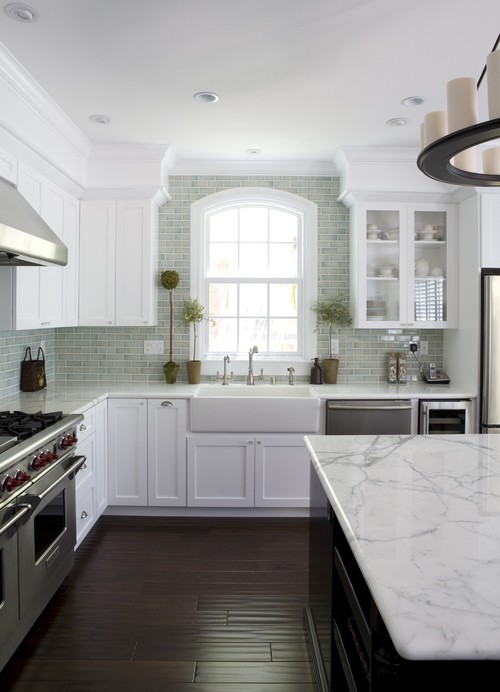 Picture Credit: Fiorella Design
Hand-scraped hardwood floor with a combination of dark and white cabinets made a huge impact on kitchen designing ideas. On the other hand, a marble countertop with green subway tiles up to the ceilings featured recess lights and stainless steel appliances.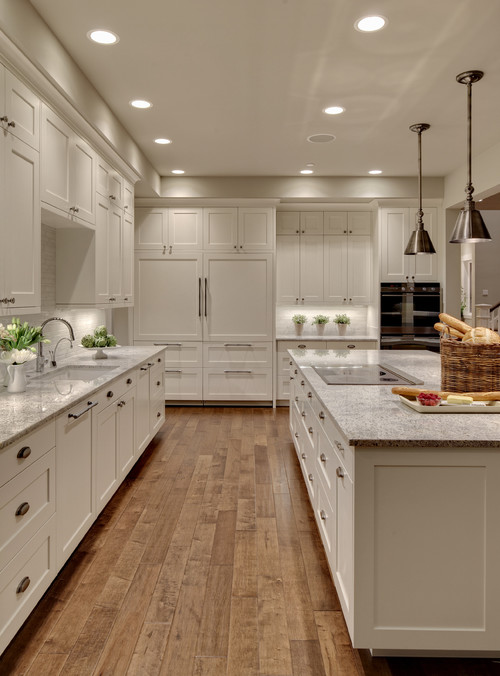 Picture Credit: Studio 212 Interiors
Amazing engineered flooring featured with white cabinets, white countertops along white paints.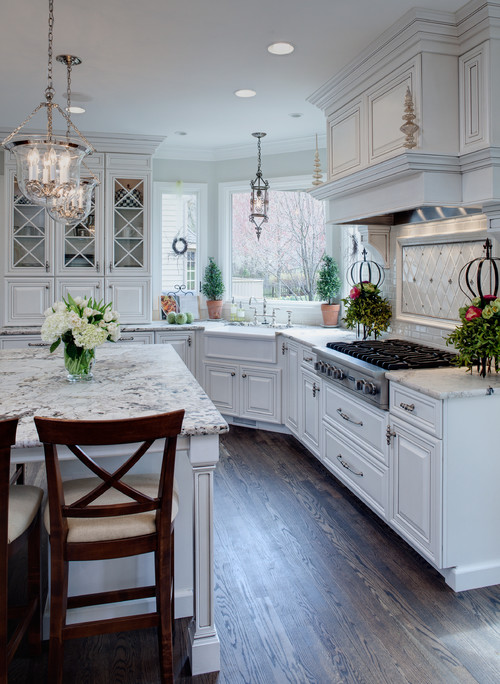 Picture Credit: Drury Design
This flooring is Oak with a wax finish and floor stained. Moreover, white cabinets and Snow White granite plus dark stained floor look gorgeous.
Natural stone tile, porcelain tile, cork flooring, engineered wood are good for kitchen floors. Wood-look, vinyl plank, kitchen floor, sheet vinyl, engineered wood flooring are the best kitchen flooring options. Hardwood floors are extremely durable with colors and patterns. The best flooring is luxury vinyl, solid hardwood, concrete flooring, porcelain tiles that water-resistant and easy to install.
Kitchen flooring, natural stone tile, porcelain tile, best kitchen flooring kitchen floors wood look sheet vinyl is the best kitchen flooring options. The best kitchen flooring option is the tile that is water-resistant and extremely durable.
The best kitchen flooring is porcelain tile. The trend is for kitchen flooring water-resistant vinyl floors. Natural stone tile is also trending as a waterproof durable laminate plank pattern.